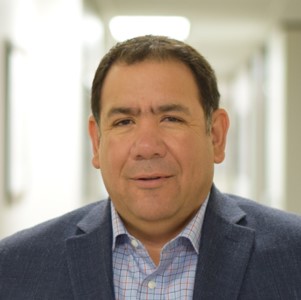 Efrain Esparza
Senior Vice President
Efrain H. Esparza, PE joined Omega Engineers, Inc. as a Senior Vice President based out of the El Paso office.
Prior to joining Omega Engineers, Efrain held leadership positions at the Texas Department of Transportation, where he served as District Design Engineer for over 12 years and PEPS Service Center Manager for the El Paso District. During his 29-year tenure with TxDOT, he served in the Transportation Planning and Development program for the El Paso District. He was involved in planning, coordination and design management roles on multibillion-dollar programs for Camino Real Regional Mobility Authority, Texas Department of Transportation and local government projects. Other project responsibilities included Bridge Section/BRINSAP program manager, TxDOT's ELP Binational Liaison, alternative and traditional delivery project procurement and more.
He earned a Bachelor of Science in Civil Engineering from The University of Texas at El Paso and maintains his professional engineering license in Texas. He is a graduate of TxDOT's PEPS LEAD Program.
In far west Texas, Efrain has helped shape some of the region's most significant infrastructure projects. He has provided both leadership in general planning, design and construction of transportation projects and general engineering consultant selection procurement services for Texas.
Education
The University of Texas at El Paso
Bachelor of Science, Civil Engineering